Finding the right tattoo kit is necessary for tattoo practitioners to get the actual feel of tattooing. There are many factors a practicing tattoo artist should consider before selecting a tattoo starter kit. To make the find easier, we provide you the top 10 best tattoo starter kits for beginners.
1. STIGMA COMPLETE TATTOO KIT PRO
Coming straight to the reason behind having this kit is that it is one of the most affordable tattoo kits and it relieves the new tattoo artists from handling multiple machines at a stretch. Tattoo artists can just adjust the settings as per their needs on their digital power supply. Stigma Complete Tattoo Kit Pro with a 1-year warranty.
The Kit Includes:
Lightweight tattoo machine
Practice skin
Disposable gloves
Foot pedals
Ink cups
Transfer Paper
Tattoo Ink
Clip Cord
Pros:
The tattoo machine provided with the kit is of high quality. Handling the machine is easy and smooth.
Stigma Complete Tattoo Kit Pro is perfect for beginners as it is highly versatile and available with high-grade practice skin.
Considering the performance and versatility factor, Stigma Complete Tattoo Kit Pro is worth the buy.
Cons:
The kit does not include tattoo cartridge needles and tips.
The digital power supply could be of better quality. Those using it might need to replace it in the future.
2. EYE POWER COIL MACHINES TATTOO COMPLETE KIT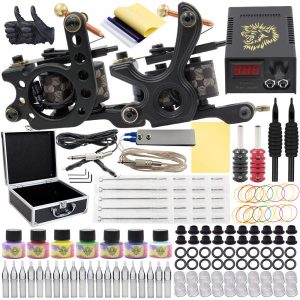 The eye power coil machines tattoo complete kit is a single tattoo machine kit ideal for new and aspiring tattoo artists. For some artists, it may be a tough choice to choose a kit with a single tattoo machine but the eyepower tattoo kit is set up in such a way that the single machine can take care of all the needs on its own.
The Kit Includes:
Tattoo machine
5 Tattoo Ink Bottles
Needles of Assorted Size, 25 nos.
Ink cups
9 disposable tips
Professional digitized power supply
Clip cord
Foot Pedal
Grip-plastic and steel
Rubber Rings, Grommets, Rubber bands.
Practice Skin
Ointments
A set of cleaning brushes
Stencil/ Transfer Paper
Paper Towels
Instructional Book and DVD.
Pros:
Tattoo involves contact with the skin, which is prone to infections. Using a high-quality machine should be the top priority. The kit qualifies in this aspect.
Performance-wise the kit is worth every buck you spent. Reviews on the kit are that the gun is the show-stealer, the other accessories are the bonus sidekicks.
Cons:
Tattoo ink is not highly recommended for the human skin
Setting it up might be a bit complex for a few.
---
No
Top 5 tattoo beginer kit 2023
Reviews
Price
Buy Now
1
Tattoo Pen Kit Wormhole Cartridge Tattoo Kit / Rotary Tattoo Machine Pen Professional Complete Tattoo Kit
4.3 out of 5
3,831 global ratings
$56
Buy Now On Amazon
2
Tattoo Kit, Wormhole Tattoo Pen Kit Cartridge Tattoo Machine Kit for Beginners
4.3 out of 5
2,780 global ratings
$48
Buy Now On Amazon
3
Wireless Tattoo Kit-Wormhole Tattoo Pen,
Cordless Tattoo Pen Kit for Beginners
4.5 out of 5
61 global ratings
$69
Buy Now On Amazon
4
Grinder Tattoo Kit by Pirate Face Tattoo/ 4 Tattoo Machine Guns – Power Supply
4.4 out of 5
1,635 global ratings
$89
Buy Now On Amazon
5
Dragonhawk Pro Complete Tattoo Pen Kit Lightweight Tattoo Pen Machine
4.6 out of 5
7,112 global ratings
$71
Buy Now On Amazon
---
3. SHARK TATTOO KIT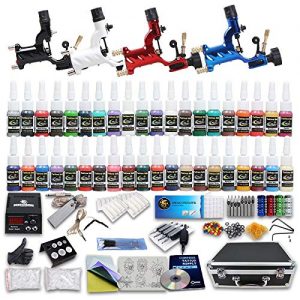 Be it a professional tattoo artist or an aspiring tattoo artist, not all are fans of all-in-one tattoo kits. Some of them prefer to buy a few tattoo accessories together at a reasonable rate and invest a bit higher on the important ones. Inks are of great importance in the arena of tattoos. If you are one such tattoo artist, the Shark tattoo kit is the perfect choice for you.
The Kit Contains:
4 coil tattoo machines
LCD Display digitizer power supply
Foot Pedal
Clip Cord
O-rings, grommets, and rubber bands.
Disposable gloves, Ink cups, and Practice skins.
7-10V working voltage, 10 copper coils
Alloy grips-2 black and 2 silver and 5 disposable grips.
Tips- stainless steel and disposable
Cleaning brush tip
Carrying case
DVD and Manual booklet
Pros:
They are durable because of their cast iron bodies.
The kit is FCC certified. It offers guaranteed free replacement services as well.
Cons:
Few users faced inconvenience regarding DVD functions.
Because of its cast-iron build, the kit has a solid construction, but it is on the heavier side. It might be difficult for new tattoo artists to manage the weight.
4. HILDBRANDT TATTOO KIT
It is one of the best rotary tattoo machines for beginner-level artists. The kit has all the accessories and provides the best guide and instruction books to start practicing. Though with the help of rotary and coil machines, the newbies will have easy access to all the tools from the beginning itself. The kit would help the tattoo artists take hold of all the accessories needed right from the beginning.
The Kit Includes:
Tattoo Coil Machine (2)
Rotary Tattoo Guns- Silence liner and Shader
Wrap Coils(10)
Foot Pedal
Clip Cords
Hildbrandt Afterlife dual machine digital power supply.
Hildbrandt Tattoo needles (50)
Radiant Colours Ink Bottles(7)
Aluminum Grips (3)
Sterilized Disposable Tubes
Basic fundamentals of Modern Tattoo Textboom
Hildbrandt Tattoo Training Video Tutorials
Teach me to Tattoo Website Exclusive Membership
Tattoo Crash Course 101
Hildbrandt VIP Membership Card(7%)
Other accessories
Pros:
The tattoo kit comes with two types of tattoo machines allowing the tattoo artists to master both the variants machines- coil and rotary. The artist does not have to buy the machines separately.
The quality and quantity of instructional material available with the care are worth every penny. One can start practicing tattoos right out of the box.
The kit is a very convenient pick out of all the tattoo kits available. The tattoo inks provided with it are of high quality and the tattoo machine given is best for lining and shading.
Cons:
The kit is priced in a bit higher range compared to other Tattoo kits.
Coil Machines are a bit complex when arranging and assembling.
The tattoo artists need to use two guns simultaneously when shading and lining.
5. DRAGONHAWK TATTOO KIT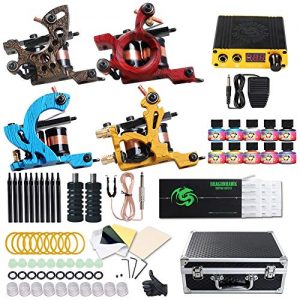 The Dragonhawk tattoo kit is best for its performance and convenience. One of the positive aspects of the kit is that it comes with four coil tattoo machines instead of one as seen in other tattoo kits. It is a guarantee that the tattoo artists have all the equipments necessary to practice all kinds of designs with this kit.
The Kit Includes:
Coil Tattoo Machines- power liner, soft shader, color packer, conventional liner
10 wrap coils
Foot Pedal and Clip Cord
304L Dragonhawk sterile needles(50)
Tattoo Machine Grips (4)
Dragonhawk digitized tattoo power supply system.
1 adjust tools set
Immortal Tattoo Ink bottles, made in the USA.
Other accessories- Ink cups, Ink caps, Transfer Paper, Tattoo practice skin, Travel Case.
Pros:
Tattooing needs proper understanding and practicing. The kits contain enough learning material to carry on with practicing right away.
The customer support for the Dragonhawk tattoo kit is very good.
The price range for the tattoo kit is very affordable given the number of accessories and tattoo machines provided.
Cons:
The first-time users, the kit might be a little complex to get hold of.
---
---
6. DRAGONHAWK 1013-7 TATTOO KIT

Dragonhawk 1013-7 Tattoo Kit, also known as Atom Pen Rotary Machine, is a perfect option for tattoo artists to begin practicing with. Pen type tattoo machine which is easier to use than other normal machines.
The Kit Includes:
Dragonhawk tattoo power supply
Atom Pen- adjustable needle depth and Precision DC motor
Clip cord and RCA connection
Foot Pedal
Other accessories:
Inkcaps, Ink cups, needle cartridges (20 pieces), Carrying case
Pros:
The Dragonhawk 1013-7 Tattoo Kit comes with a one-year warranty.
The Tattoo kit is reasonable, has a good balance making it suitable for beginner-level tattoo artists. The Tattoo kit includes a good set of learning materials.
It is one of the top choices the aspiring tattoo artists, because of its versatile and high-performing pen-type machine.
Cons:
There is a high chance for the Atom Pen Rotary Machine to heat up quickly.
Tattoo artists need to buy the practice skin separately as it is not included with the kit.
7. HUMMINGBIRD BRONC PEN MACHINE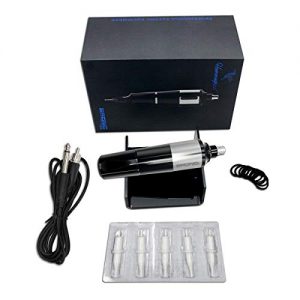 Hummingbird Bronc Pen Machine is one of the best tattoo starter gun kits. The 154g pen machine is the most preferred kit by tattoo artists for lining and shading. The Tattoo Pen Machine comes with a 1- year warranty. Pen-type rotary tattoo machines are easier to wield, making them one of the best starters by tattoo artists.
The Kit Includes:
Swiss motor
5-12 V working voltage
Aircraft aluminum frame
RCA connection
Adjustable 3.5 to 4.5 stroke length.
Other Accessories- machine tray, O- rings, ink cups, disposable gloves, super lube, transfer paper, RCA cord, needle cartridges.
Pros:
The Hummingbird Bronc Pen Machine is easy to handle with less vibrations because of the Swiss motors. It feels like handling an actual pen. Such use at the starter level, would help the new tattoo practitioners to shift to tattoo machines at ease.
The pen kit requires minimal assembly as colors, lines and packs smoothly. It is compatible with all needle cartridges.
-The Pen Machine is a high-quality build.
Cons:
The Pen kit might need some additional purchases to get it working.
8. SOLONG COMPLETE TATTOO KIT
The solong complete tattoo kit is a perfect alternative for young and new tattoo artists. At the amateur level, the kits need to be budget-friendly with a good build.
The Kit Constitutes:
4 Pro Tattoo Machine Guns
4 different tattoo machine guns for embodying different liner shader and coloring for the tattoos
54 color bottles
54 nos. of 5 ml tattoo ink bottles to practice. The inks are of favorable colors and safe for use. Gamma rays are used for sterilizing the inks.
LCD digital tattoo power supply
It has a digitized power supply clip cord and foot pedal.
Other Accessories
50 tattoo needles, 10 tattoo grips, 10 tattoo tips, 100 ink cups, and other necessary accessories.
Pros:
The kit is CE certified with one year warranty.
Solong Tattoo kit is affordable for newbies and includes all the mandatory equipment to master the art.
Cons:
It is advised to work with the machine gun under 12V to keep the machine gun and power supply safe from damage.
9. GRINDER TATTOO KIT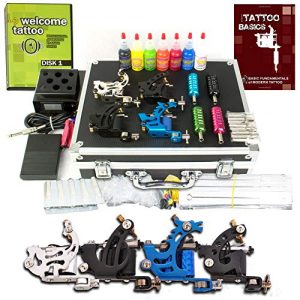 Grinder tattoo kit is a flexible choice ideal for beginners, apprentices, and even professional tattoo artists. The kit is professionally built, accessible at a reasonable price. The quality is competent for use even by professionals. Getting a Grinder Tattoo kit as a starter pack is a sure-shot boost for the new tattoo artists willing to enter the market.
The Kit Includes:
10 wrap coiled, 4 Tattoo Machine Gun
7 bottles of ink tattoo by Radiant Colours, made in the USA. The colors are properly sterilized with homogenized pigment. The pigment helps reflect a bright, persistent, and solid color to the tattoo.
Free Tattoo Instructional Book of 240 pages and a 2hr DVD Combo
Other supplies like Ink Needles, Power Supply, Foot Pedal, grip, Gloves, Ink Cups, Carrying Cases, etc.
Pros:
The kit is priced at 99 USD with a 6 month warranty period on the tattoo machines and power supply.
The kit is well known among professionals for its reliable performance and is easy to adapt and work with having the capacity to challenge some of the best of the lots out in the market regarding its performance.
Cons:
As per reviews, few customers received incomplete kits.
10. SOLONG 3 PRO TATTOO COMPLETE KIT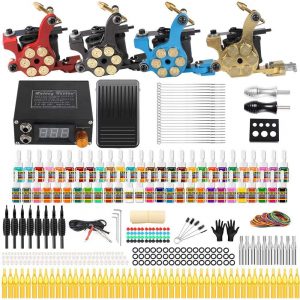 The Solong Tattoo complete kit 3 pro is also the best tattoo kit for beginners. The tattoo kit provides high-end performance at an affordable price. The brand Solong is famous for producing tattoo machines that are the exact replicas of expensive brands, making it a perfect choice for practicing tattoo artists.
The Kit Includes:
Liner and shader coil machines (3)
10 coils
Foot pedal
Clip Cord
LCD digital power supply
5 ml Ink bottles (8)
Sterile tattoo needles of assorted sizes (50)
Disposable nozzles, rubber bands, grommets, O- rings(50)
Aluminium Alloy grips (2)
Other accessories- ink cups, adjust tools, radiant colors(7), transfer paper, paper towels, practice skin, instruction manual.
Pros:
Solong 3 Pro kit is worth the money spent on it. Performance and reliability-wise, the tattoo tops the preference list.
The kit already comes with the needed accessories, the tattoo artists can start practicing right away without worrying about availability of the accessories.
The coil-type machine of the kit gives a high-ended performance on the results, making it yet again the ultimate choice for beginners.
Cons:
There can be an improved version of the setup process.