Tattoos are a great way of expression through body art. And one must need some great equipment to work with. This blog by Tattoo Pro will cover a list of names of brands of different types of coil tattoo machines. Also check out the coil tattoo machine reviews, available in the market to buy a quality device and create impressive tattoos.
Which are the best coil tattoo machines on the market? It keeps on changing from time to time as new products appear, and new brands become popular. It also depends on the factor whether you are seeking the best coil tattoo machines for beginners or a professional coil tattoo machine.
1. Dragonhawk Brass Coils Tattoo Machine
Dragonhawk coil tattoo machine is great for amazing movements for shading, as well as lines with great accuracy. The machine's frame is made of brass, and it has a good quality tube. If a customer is not satisfied, the customer support team is always there to help out. The liner is an 8-wrap coil liner with 140-150 Hz per 7-8V, and the shader is 10 wrap coil style with 115-120 Hz per 7-8V.
Pros:
Good for accuracy and shading work
Customer support and refund is accepted
Price worthy product
Works smoothly
Cons:
Need to properly check when the machine arrives, for the correctness in the assembling of all parts of the machine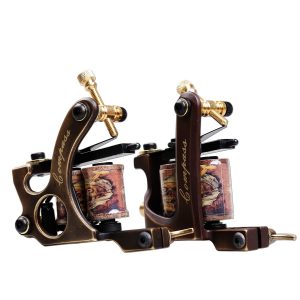 2. Mast Tattoo Handmade Coil Machine
The brand Mast Tattoo Machine is a premium pick among all. This coil machine has a traditional outlook and functionality. It is a great choice for shading and lines too. All of the lines made by this machine are clean, neat and going to run smoothly across the skin. Its brass binding and the contact screw are both solid, sturdy and durable. Working speed is medium and with a long throw, it's a hard hit. The construction is of iron and consists of a standard tube.
Pros:
The machine is traditionally designed
Smoothly works
Good for lines and shades, making it one of the best coil machine
Structure is sturdy
The machine has a lightweight feel
Long throw
Cons:
Initially, the liner could be tricky to adjust
3. Redscorpion Coil Tattoo Machine Gun
From the brand Redscorpion, the coil tattoo machine is among the top picks. It is made of alloy. This machine is feasible and provides steady and smooth working. The working speed is uniform. All lines made by this machine are discrete and smooth, and it won't affect the skin in any way when it pokes on it. This machine is great because it offers noiseless and heatless work for even up to 8 long hours. As the spring is elastic and durable, it will not get damaged easily. The package comes with 2 machines and 3 months warranty.
Pros:
The machine has is made of durable alloy
Smoothly works
Nice lines
Less damage to skin makes it one of the best coil tattoo machine brands
No emission of noise or heat
Comes with a durable elastic spring
Cons:
The screw on the tube might often need to be tightened.
4. One Tattoo World Coil Tattoo Machine
Next, the unique-looking coil tattoo machine is from the One Tattoo World brand. This machine works as a great liner and shader as well. A great appearance makes this coil tattoo machine just as appealing and striking. It has a 10-wrap coil made with all the recent best technology and consists of a solenoid valve. The working experience is comforting, gives a stable bounce and easy movements, and emits less heat after long working hours.
Pros:
Good for liner and shader
Appearance is elegant
The machine is equipped with the latest coil technology
Gives stable bounce and movements
No emission of heat during long hours
Gives effective customer support
Cons:
The alignment on some parts needs to be adjusted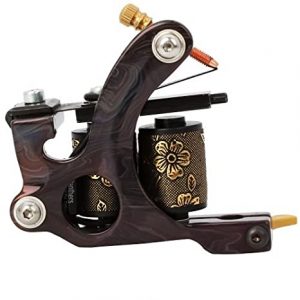 5. Cinra Coil Tattoo Machine
China's coil machine is made of good quality steel. The package comes with 2 machines and will get both the shader and liner features. The frame structure is made of durable steel and 10 copper-wrapped coils. With the advanced technology used here, one can even change the voltage digits for shading or lining purposes as per needs. The machine grips well in the hand because it absorbs vibrations and sounds, and is heatless too. Moreover,it is suitable with all types of needles and grips.
Pros:
The machine is made of durable steel
Good for liner and shader
Equipped with copper coils
The voltage adjustment option is available
No vibrations or sound emission
Machine is heatless
All needles and grips are compatible
Cons:
No instruction is given manual in the package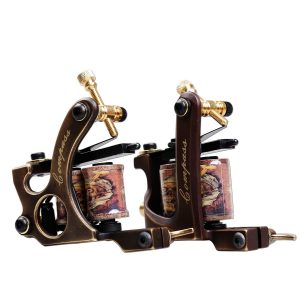 6. Redscorpion Cast Iron Coil Tattoo Machine
Again another one is from the brand Redscorpion on this list. This time it is a cast iron machine that is very durable in terms of quality. The conductivity of this machine is great here for both magnetic and electrical and the most distinguishing feature is that it works great as a liner for delicate linings and smooth working. The frame is excellent for precision and works with a great level of accuracy in movements during several hours of tattooing session. It gives relief to your hand as this is a lightweight coil tattoo machine and consists of 8 wrapped coils. In case of any possible dissatisfaction, there is a refund option available for customers within 30 days.
Pros:
Machine material is made of durable cast iron
Offers great conductivity
Suitable for lining work
Gives accuracy in movements
The machine is heatless for hours of working
The machine is light in weight
Refund is possible to claim
Cons:
The shader feature is not extremely visible here
Some minor vibrations occur after long working hours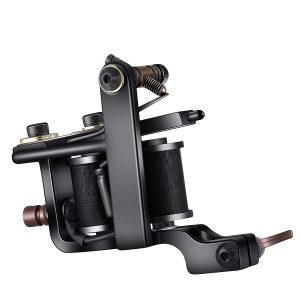 7. TAONE Coil Tattoo Machine
Taone coil tattoo machine has a nicely carved brass structure and has 10 handmade copper-wrapped coils. This machine is a great liner work, as it is stable and makes smooth contours with accuracy. It is super easy to follow the movements as it does not miss or move unevenly. Customers can expect at least noise-free or heatless hours. In case of any dissatisfaction, there is a 90-day refund policy available.
Pros:
The machine is made of carved brass
Copper coils are handmade
Great as liner
Movements are smooth
No emission of noise or heat for 8 hours
A refund is possible within 90 days of the complaint
Cons:
The shader part is not good as its feature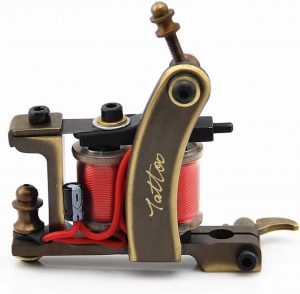 8. York Coil Tattoo Machine
From the York Tattoo brand, the coil machine is there in the list that is again great for both lining and shading work. It gives a comfortable and anti-slipping grip with its silicone material and this small kit comes with tattoo tips, the coil tattoo machine, and a silicon-made grip tube as well. The frame is built of firm iron, and the working speed of the machine is uniform. This specially designed machine reduces skin damage during the pokes, and it is quite easy to color with it as well. Again, one can depend on this if you are seeking for several hours of heatless working. The elastic spring is less prone to damage.
Pros:
Good as both liner and shader
Comes with an anti-slipping grip made of silicone
Tips are included too
The machine frame is made of durable iron
Machine remain heatless for hours
The coil spring is elastic
Cons:
To avoid dents in some parts go easy with applying pressure
The packaging is a bit fragile to protect all parts
9. Anself Pro Tattoo Machine Gun
The brand Anself offers a visually good-looking coil machine that is made of extremely durable and long lasting material, like the whole structure is made of good quality low carbon steel. This can be used both as a shader and as a liner at the same time. The design gives a visual treat of remarkable and interesting colours that goes well all together. Its spring is ergonomic so it can reduce enough fatigue, and with the iron armature magnetism is great. This feature offers great working hours.
Pros:
Good as liner and shader
The machine has a durable steel structure
Elegant colors and design
Spring is ergonomic
No emission of heat
Cons:
Adjustment to the parts are made well and tight so that power stoppage do not occur to the gun
10. Dragonhawk Complete Tattoo Kit
It is a coil tattoo machine kit is one among cheap coil tattoo machine, with a complete list of basics included. In this kit, there are mainly two machines, one is for shades, while another one is for lines. The machine structure is quite sturdy, made of durable iron, with a very strong and flexible spring. This means you will feel a better and effortless grip. Also, the kit consists of ink of 10 colors, and a LED power supply, along with a pedal and a cord. In addition to this, needles, tips and similar tiny parts are also there in the kit.
Pros:
Offers a full kit of equipment
Comes with two machines
Durable iron
Spring is elastic and ergonomic
Offers to use 10 ink colors
LED power supply, cord, and pedal
Needles are included in the package
Cons:
The pedal and cord could wear off faster than usual but depends on how much you use the machine
Contact could have tiny stops rarely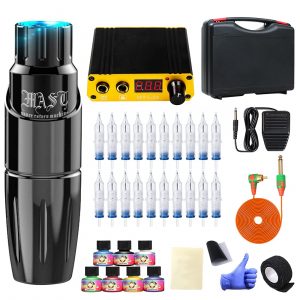 Which is the Better – Coil vs Rotary Tattoo Machines?
There are some significant differences between rotary and coil tattoo machines. The coil tattoo machine has many advantages over rotary tattoo machines and others. Like customization in the design of a coil tattoo machine can be done with all various parts. Then, the coil machine is much better when it comes to making nice and sharp lines. The coil machine works with more precision as it also goes well in the skin with one go. Then, the motor is much sturdier in coil machines and they are durable and good for combining needles in groups. So overall professional coil tattoo machines are better than rotary tattoo machines.