Tattoos allow people to express themselves by art and colour, as well as to display their personality through drawings and messages. However, you may find yourself in a scenario where you need to attend a meeting, a formal gathering, or your employer just does not allow you to wear these tattoos. So, what are you going to do? As a result, this post will teach you how to rectify and conceal, and cover up these tattoos. Ana Marie Rizzieri and Erin Guth, celebrity makeup artists, cover up tattoos for a work, and Amaal, a beauty aficionado and tatto-wearer, covers up their art on a regular basis.
Since the beginning of tattooing, numerous methods have been used to hide over tattoos. While tattoos are traditionally thought to be permanent, therapies are now available to erase them completely or partially. Some people prefer to cover up an unappealing tattoo with a new one. This is frequently referred to as a cover-up. A well-executed cover-up may leave the previous tattoo totally invisible, however this will be dependent on the size, style, colours, and methods employed on the original tattoo, as well as the tattoo artist's competence. To properly conceal an earlier, undesirable tattoo, deeper tones in the new tattoo are required. Many tattoos are too dark to cover up, thus patients may benefit from laser tattoo removal machines to lighten them.
What is Tattoo Cover Up Makeup?
A concealer, also known as a colour corrector, is a form of makeup that is used to disguise dark circles, age spots, big pores, and other minor defects on the skin, as well as to cover up tattoos. It's used to conceal severe skin discolorations including birthmarks, scars, and eczema. Concealer comes in a range of shades. People Who Cover Tattoos recommend using Dermablend or Makeup Forever Makeup Sticks as the best makeup to cover up tattoos. The sticks make it possible to apply the product in previously difficult-to-reach areas.
How Does Tattoo Cover Up Makeup Work?
The most frequent method for concealing a tattoo for work is to use foundation and concealer. Tattoo concealer makeup is surprisingly effective, and there are a plethora of incredible concealers and foundations that can make your ink virtually invisible for the day. It is crucial to remember, however, that cosmetics should only be used on properly healed tattoos.
Of course, it should go without telling that your body art is lovely and a terrific way to express yourself, so flaunt it whenever you can. But for those times when you need to keep it to yourself, reach for these solutions, which are ideal for concealing a tattoo for a limited length of time. For best tattoo cover up makeup you can use below product from amazon.com.
1. Glossiva Tattoo Concealer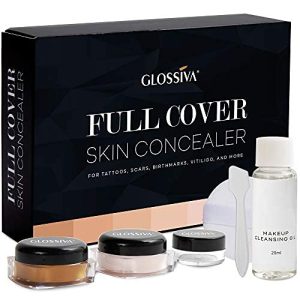 Specification:
| | |
| --- | --- |
| Brand | Glossiva |
| Coverage | Light |
| Skin Tone | Deep |
| Package Information | Bottle |
| Package Type | Box |
About Glossiva Tattoo Concealer
The item is waterproof. During these once-in-a-lifetime chances, you don't have to worry about perspiration or water wiping it away. It may be used to disguise dark spots, vitiligo, and any other unpleasant blemishes on your body, in addition to tattoos. It's ideal for any activity, whether regularly or only for special occasions.
Cover-up Immediately: Finally, a fast technique to conceal. There is no need to undergo invasive or unpleasant operations to conceal tattoos, erase birthmarks, or remove other skin blemishes. This tattoo concealer is color-matched to your skin tone, so you won't end up with the wrong make-up.
2. Dermablend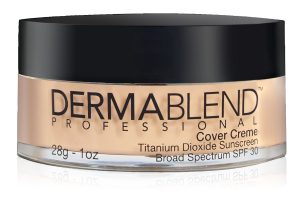 Specification:
| | |
| --- | --- |
| Brand | Dermablend |
| Coverage | Full |
| Skin Tone | Light |
| Special Feature | The ultimate full coverage foundation. |
| Color | 25N Natural Beige: For light skin with warm/yellow undertones |
3. Dermaflage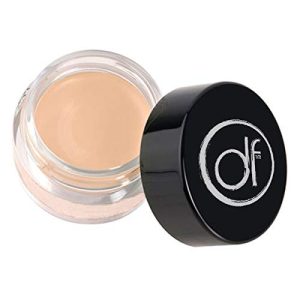 Specification:
| | |
| --- | --- |
| Brand | Dermaflage |
| Color | Medium |
| Skin Tone | All |
| Finish Type | Matte |
| Item Weight | 0.24 Ounces |
About Dermaflage

Tattoo Cover Up Makeup Cream in three colours: red to cover up black ink and two skin tone hues, concealer brush, and mirror
Bruise Concealer begins with red concealer and blends skin tone tones for a perfect fit – conceal tattoos and cover bruises like a skilled makeup artist.
It is a waterproof tattoo cover up makeup product. The formula is non-greasy. No need for setting powder for all-day tattoo covering. Long-lasting makeup to conceal tattoos in any condition it will not smear or rub off on clothing. To remove it, you'll need soap or makeup remover!
Body Concealer Makeup for concealing tattoos, bruises, and scars. It conceals any discoloration while appearing natural.
Checkout: Best White Tattoo Ink For Black Skin | Lighten Your Tattoo
4. Hide
Specification:
| | |
| --- | --- |
| Brand | Hide |
| Color | Light Beige |
| Coverage | Medium |
| Skin Tone | Light |
| Special Feature | Oil Free |
About Hide

Medium To Complete Coverage Concealer: Provides complete coverage in seconds. The most effective full coverage and buildable concealing lotion you'll ever use. In seconds, you may have 5 minutes of coverage. Hide oil-free concealer is suitable for all skin types: Normal, Dry, Oily, or Combination skin.
Precise Applicator: The unique Concealer applicator enables for broad lines to be applied using the flat surface, as well as precise lines to be applied utilising the side and tip. Lightweight and breathable creamy texture with a shine-free and sweat-repellent finish.
A Color for Every Skin Type: Find your ideal colour to produce a flawless.
5. Judith August
Specification:
| | |
| --- | --- |
| Brand | Judith August |
| Coverage | Full |
| Item Weight | 0.2 Pounds |
| Age Range (Description) | Adult |
About Judith August

Waterproof Makeup Concealer with Full Coverage • Mix Colors To Create Your Perfect Shade
Coverage for Tattoos, Birthmarks, Scars, Age Spots, Bruises, Vitiligo, and Others
Makeup Artists and Skin Care Professionals Use It
6. AOBBIY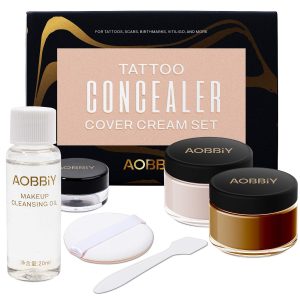 Specification
About AOBBIY

Waterproof Tattoo Concealer: Because the product is waterproof, you don't have to worry about perspiration or water washing it away during key events like weddings, special events, meetings, and more.
Perfectly Matches Skin Color: By combining the dark and light pastes, you may modify the concealer colour to match your skin tone, eliminating the need to worry about purchasing the wrong colour make-up. So ideal!
Simple to Use: This skin concealer is sophisticated yet not difficult to use. To acquire the appropriate skin cover up, simply combine the amount of light and dark colour paste according to how it suits your skin tone.
Other than tattoos, there are a variety of other applications: It is not only used to cover over tattoos, but it is also used to mask dark areas.
7. Segminismart Tattoo Concealer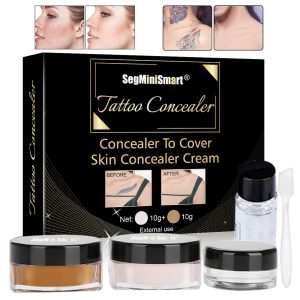 Specification
| | |
| --- | --- |
| Brand | SEGMINISMART |
| Color | Brown |
| Coverage | Light |
| Skin Tone | Deep |
| Finish Type | Radiant |
Tips: How To Remove a Tattoo: Permanent and Temporary Tattoo Removal Tips
8.VERONNI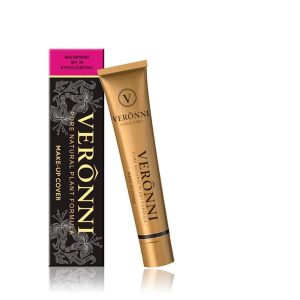 Specification
| | |
| --- | --- |
| Brand | VERONNI |
| Coverage | Full |
| Color | 208 |
About VERONNI

Waterproof and hypoallergenic: This makeup features a waterproof solution that prevents sputum from forming as a result of perspiration. And utilise a pure natural plant formula that is safe to use. Suitable for all skin types.
SPF 30: This cosmetic cover may give sun protection. It may be used to adjust the colour of the full face or body.
Full Coverage: Full coverage of freckles and scars. Improve skin tone while hydrating the skin, simply and evenly apply to skin, complete coverage but comfortable, feels smooth texture.
Broad Applicability: It may totally conceal acne, pigmentation loss, post-surgical bruises, tattoos, and other imperfections.
9.Daily Scar Tattoo Concealer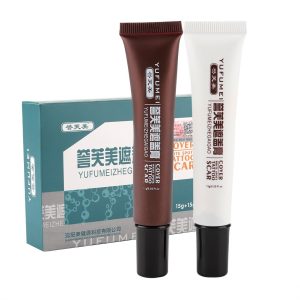 Specification
| | |
| --- | --- |
| Brand | Dioche |
| Color | Ivory |
| Coverage | Light |
| Finish Type | Cream |
| Item Dimensions | LxWxH 0.39 x 0.39 x 0.39 inches |
About Daily Scar Tattoo Concealer

Made from natural plant extracts: The effective natural flavouring recipe is free of alcohol and non-toxic additives. There is no damage to the skin, no inflammation, no side effects, and it is safe and dependable.
Using sophisticated biotechnology: mixed with natural essence, the texture is delicate and light, and when applied to the skin, it does not feel heavy or oily, enabling the skin to breathe freely.
Improve skin texture: It also aids in the repair of skin scars, the improvement of skin diseases, and the creation of a healthy and radiant complexion.
Broad range of applicability: covers tattoos, scars, birthmarks, spots, and so on, and the product is long-lasting, sweat-proof, and waterproof. It can cling to the skin for up to three days.
10. Nuonove Concealer Mixer
Specification
| | |
| --- | --- |
| Brand | Nuonove |
| Coverage | Full |
| Skin Tone | Light, Deep |
| Finish Type | Natural |
| Package Information | Bottle |
About Nuonove

Nuonove Dark Nude Tattoo Concealer and Light Nude Tattoo Concealer can be used independently or together to hide scars, tattoos, camouflage, spots, and birthmarks.
The concealer set has a natural essence efficient composition that is gentle on the skin. Because of its thin, fine, and light texture, it allows the skin to breathe easily.
Provides flawless coverage even in thin layers and is the ideal corrector for tattoo scars, unsightly spots, and skin imperfections.
Looks so natural, you can conceal faults and achieve full coverage with an invisible finish. If any adverse reactions are discovered, discontinue use immediately.
Waterproof Tattoo Cover Up Makeup
The foundation will become water resistant after setting your tattoo cover-up makeup with Dermablend's Original Loose Setting Powder. If the tattoo cover-up cosmetics do become wet, dab it off the skin rather than wiping it away. So it's a tattoo cover-up cosmetic that's waterproof.
How to Apply Tattoo Cover Up Makeup?
We can apply tattoo cover up makeup by using these following 7 steps.
1. Cleanse
To allow the products used on top to have their maximum impact, the skin must be cleansed of any extra oils or dirt.
2. Moisturise
Apply a large quantity of an oil-free hydrating moisturiser to the affected region and massage it in with circular movements.
3. Prime
Apply a pea-sized quantity of pore-minimizing primer to the tattoo. This will smooth the skin, prepare the area for any products that will be applied on top, and guarantee that your makeup remains on all day.
4. Correct
Correctors, which are used to cover up pigmentation and discoloration on the skin, can also be used to cover up the colour of the ink in your tattoo. Apply the corrector to the tattoo with a tiny concealer brush and smooth the borders softly. Begin with a small product and gradually expand it as needed.
If your tattoo was just drawn on with black ink, a pink-colour corrector would suffice, however for those of us who have colour tattoos, each colour must be neutralised separately. It will show you how green and red, yellow and purple all cancel each other out, just like the colour wheel.
5. Conceal
Choose a high duty concealer that has a thick consistency and is long-lasting for tattoo concealment. Pat this in place atop the corrector with a little bigger concealer brush to thoroughly hide the pink or any portions of the tattoo that may still be visible. Blend out the edges with a fluffy brush.
6. Foundation
Use a full-coverage, matte, and oil-free foundation. Choose a colour that is near to your skin tone to achieve a smooth blend. If you want maximum coverage, use a kabuki brush to pack in the product, then use a beauty blender or your makeup sponge to smooth out any hard lines around the borders.
7. Powder
If you need extra coverage, apply a foundation powder that matches your skin tone, or use a translucent powder to set your makeup. Apply the product with a fluffy powder brush and buff it into place. This will ensure that your makeup remains transfer- and smudge-proof throughout the day. As a result, the ideas and tactics in this post will be beneficial to you as well.
Conclusion:
All of the products may be used on all skin types, even sensitive skin. Furthermore, the design and look of the tattoo will be impacted by exposing it again. As a result, tattoo cover-up cosmetic products are quite beneficial to all of its consumers at all times.