Best Power Tattoo Supply 2023
Make sure to put the tattoo power supply on your list of things to buy if you've made one for your tattoo business. One of the most important pieces of equipment in the studio is the power supply. It offers an electrical energy supply that will run your setup. Never hunt for cheaper or used alternatives to this gadget out of desire; this item ought to be dependable and trustworthy. It produces a consistent quantity of power, giving your setup the best performance possible. It used to be very difficult to locate a working power supply. Many tattoo artists used various power supplies to operate their equipment, which wasn't always secure.
Fortunately, the market has expanded significantly, largely because people are becoming more interested in obtaining tattoos. There are now power supplies made exclusively for tattoo machines, and users have access to a lot more tools. There's no doubt that these gadgets will keep evolving, and in the not-too-distant future, tattoo artists might have access to anything that makes the tattooing procedure more convenient. To know more about the equipment used for tattooing, visit Tattoo Pro.
Important Factors to Take into Account Before Purchasing a Tattoo Power Supply
1. Voltage Range
Each tattoo gun power supply has a set voltage range; this range might be anywhere between 1.5 and 18 volts. The typical voltage range needed to run tattoo equipment is 5 to 9 volts.
2. Dual Port
You will need to utilise two different pieces of equipment for line and shading if you are tattooing with a coil machine. You'll need a dual-port power supply to be able to utilise them both at once.
3. Convenient Design
A more comfortable user experience is made possible by small, compact power supply equipment. A user-friendly power supply device should also have adequate support underneath it to prevent accidents or inadvertent falls.
4. Mobility
The portable power supply units are excellent for studios as well because they take up less room, freeing up space for other equipment.
5. LED screen
A LED screen is a nice addition to the devices that do have one even if not all power supply units have one. You can see the precise voltage you are dealing with on an LED screen.
---
Sr. No
Tattoo Power Supply
Specification
Price
Buy Now On Amazon
1
Critical CX1-G2 Authentic
It has a 1/4" mono jack input to connect the standard tattoo cords
$245
Buy On Amazon.com
2
Cheyenne Hawk Power Unit
Water Resistant
$1,341
Buy On Amazon.com
3
Bronc TPN-035
Can be used for Two Tattoo Machines

Colourful HD LCD display & High-sensitivity touch panel.
$69
Buy On Amazon.com
4
Dragonhawk LCD Dual Tattoo Machine Gun Power Supply
This tattoo power supply provides quick and accurate

Improve your machine reliability and efficiency with smooth consistent power output from the Dragonhawk power box
$29
Buy On Amazon.com
5
Tekpower HY-1502 DC Power Supply
1.5-15 Volts adjustable @ 2 amps, ideal for tattoo use

LED Digital display
$34
Buy On Amazon.com
6
BIOAMSER Permanent Makeup Tattoo Machine Kit
Water Resistant
$135
Buy On Amazon.com
7
Dragon Art Dual Digital Tattoo Power Supply
Easy and Intuitive Controls, Perfect for Beginners!

Durable Metal Construction
$24
Buy On Amazon.com
8
TATELF Tattoo kit Cartridges Tattoo machine
Twisting the machine frame can adjust the depth of needles from 0 to 4.5mm and 3.5mm stroke.
$99
Buy On Amazon.com
---
Enlisted below are the top 10 best tattoo power supplies to consider for 2023;
Best Tattoo Power Supply: Critical CX1-G2 Authentic
Among tattoo artists, this US-made power supply is one of the most well-liked and useful tools. The small power supply was designed specifically to power tattoo tools. It is incredibly powerful despite being little.
Pros:
Small and practical design
Electronic display
Barriers to hygienic protection are practical.
Produced in the USA
Dependable and tried
Includes a comfortable stand
Cons: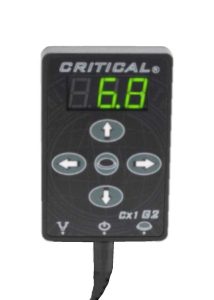 ---
Tattoo Power Supply: Cheyenne Hawk Power Unit
The best power supply to use with Cheyenne machines is the digitally controlled power supply, model numbers PU I and PU II. The device is perfect for travelling to tattoo conventions as well as working at home or in the studio due to its lightweight (260 g) and quick and simple voltage adjustment.
Pros:
High levels of consistency and dependability
Start the machine even at the slowest speed, the machine is launched.
Can be bought for two machines
Portable
Digital display
Cons:
---
Best Power Supply For Tattoo: Cheyenne PU4
This power supply is small and convenient, and it instantly differentiates from the one the manufacturer previously produced and that we have already reviewed. You can fit this model in the palm of your hand. Since the power supply is magnetic, attaching it almost anywhere is simple. However, if your work surface is not made of metal, you can use the magnetised plate on the back of the device. Thus, it's simple to construct a stand for the device at a 60-degree angle, and it's quite useful.
Pros:
This is quite reliable and stable
Adapters for different socket types included
Super powerful to start at low voltages even very tough membrane cartridges
The display type is customizable
Timer function
It is compact and handy
Comes with two pedal operation modes
Cons:
Required to buy an adapter from jack to mini-jack
Price is high
---
Affordable Tattoo Machine Power Supply: Bronc TPN-035
The affordable tattoo machine power supply from Hummingbird is a fantastic substitute for American power supplies. This design is a fashionable digital power supply for tattoo machines. Plastic of the highest quality makes up the body. It can be used with barrier protection because buttons are used for control. It works with all kinds of tattoo machines. The display is in monochrome. The gadget is not only among the most trustworthy but also among the most cutting-edge. It includes a stand.
Pros:
Great option at a very low price
Powerful tool
Very simple operation
Ergonomic and functional design
Cons:
No confirmed information on durability
In some machines, polarity is mixed up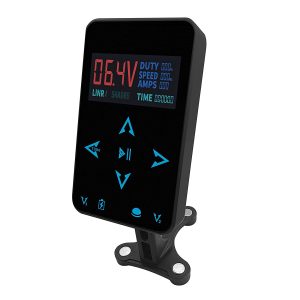 ---
Dragonhawk Power tattoo Supply: Dragonhawk P077
This is a premium, cutting-edge power supply for a single tattoo machine. Both rotary and coil tattoo machines can be used with this equipment. With its durable construction, great vibration resistance, and high-quality performance in a fashionable case, this item is completely different in terms of appearance. A digital display and two inputs—one for the clip cord and the other for the foot pedal—are located on the front panel.
Pros:
Affordable price
Stable performance
Electronic display
Durable and striking construction
Cons:
Adjustable voltage
Heavy features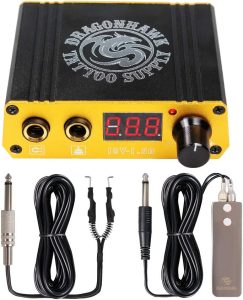 ---
Best Power Tattoo Supply: Tekpower TP3003D-3
This Tekpower TP3003D-3 would also be a fantastic choice because it is affordable, nearly indestructible, and adaptable to your needs. Additionally, the power supply in this study is the only one with an output power of up to 30 volts. Its size, which is fairly huge, is its main drawback. This laboratory version will be ideal if you just intend to operate in the studio and are searching for the most robust tool.
Pros:
Durable
Stable and smooth functioning
Digital display
One-year manufacturer warranty
Cons:
---
Touchscreen Tattoo Power Supply: Biomaser TP-5
One of the affordable and widely used tattoo power supplies is this one. The device has a timer, and the display provides information about it. Liner and Shader are two distinct modes. The voltage can be adjusted up to 18 volts, and when the accuracy is checked, the error is within acceptable bounds.
Pros:
Budget-friendly
Good quality touchscreen
Powerful and stable with a timer function
12 months warranty
Cons:
Wear and tear on tattoo machine motors is possible.
Build quality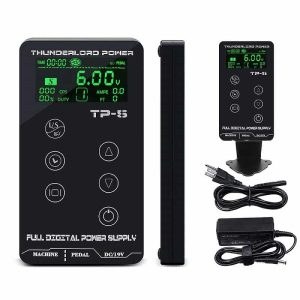 ---
Dragon Art Dual Digital Tattoo Power Supply
Everyone will adore this tattoo power supply tattoo machine because of its simple controls, especially novices. A sleek and lightweight foot pedal as well as two clip cables are included as accessories. You can quickly modify its position because it is rather portable. Speaking of the adjustment settings, the 1.5v-18v regulated current stable production range of this tattoo power supply enables you to fully modify the voltage output. One of the reliable names on the market is Dragon Art. You need not be concerned about the calibre. Durable metal was used in the construction of the Dragon Art Dual Digital Tattoo Power Supply. Additionally, the company provides a 100% satisfaction guarantee.
Pros:
Adjustable output
High-quality ingredients
LCD display
Ultra design
Cons:
You need to memorise the different colours to be able to use the power supply for the tattoo machine effectively.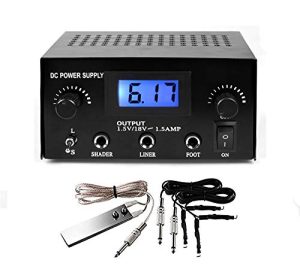 ---
TATELF Tattoo Power Supply
We may remark that this power supply machine has the greatest feedback if you're a novice tattoo artist. It has a user-friendly LCD digital display and DC power support. The controls are simple to use and adapt. It has two accurate power dials and can be adjusted and customised quite a bit. It works with both coil and rotary devices. It displays a variety of data on the screen, including the amount of time used, the voltage, ampere, efficiency, etc. You may connect it to any surface you're working on because it has a magnetic and anti-skid base. This critical tattoo power supply machine is one of the best on the market because of how simple the touch control buttons are to operate.
Pros:
The touch buttons are easy to use
It comes with a magnetic base
Cons:
It features a single port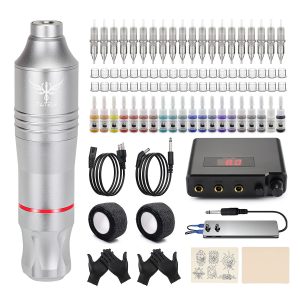 ---
Dual Digital Tattoo Power Supply with a Pirate Face Tattoo
The Dual Digital Tattoo Power Supply from Pirate Face Tattoo is excellent for running two machines simultaneously. Despite its larger size, this power source is extremely effective. You can use a foot pedal with your machines because it includes a separate foot pedal port as well. It has an LED display that allows you to see the exact output voltage.
Pros:
A flat foot pedal is included
Cons:
This machine is quite heavy and not a great option for portable.
Conclusion:
You will require a tattoo machine power supply if you are just starting off with tattoos. It is crucial for managing your machine's voltage, but it is also necessary for overload protection, preventing work interruptions from electrical fluctuations, and safeguarding your equipment from damage. If you're not sure which power supply to purchase, pick your favourite from our list of the top power supplies. Always choose a power supply based on your demands because some will perform better in one area than another. It's time for you to acquire a tattoo power supply so you can start using it now that you know more about them.
FAQ's
Which things to consider before buying a tattoo power supply?
Voltage range, Dual port, convenient design, mobility and LED screen are things which need to consider before buying a tattoo power supply.
How many volts are needed to run tattoo equipment?
5-9 volts are needed to run tattoo equipment.
Which is an affordable tattoo power supply?
Bronc TPN-035 is an affordable tattoo power supply. and it costs around $69.