If you are in search of the best white tattoo ink, then you are in the right place. This article will review the top 10 best white ink tattoo on dark skin 2022. A well defined and attractive tattoo will make you stand out different from the crowd. The tattoo ink is responsible for glossy and eye catching tattooing experience for the user. The primary use of white tattoo ink is to highlight the tattoo. White Tattoo Ink is quite used for African American white ink tattoos on dark skin.
Before getting into the list, it is important to know what few things one should consider before buying a white tattoo ink to make a safe choice for yourself.
Things one should Consider before Buying A White Tattoo Ink
Tattoo ink should last for a longer time.
Tattoo ink is made of chemicals hence it should be skin friendly
A ink suitable to skin type should be chosen
Ink should be dermatologist tested
10 Best White Tattoo Ink For Dark Skin
Here is a quick summary for those who are looking into each of the best white tattoo ink of 2022 by tattoo pro
World Famous Portrait White Tattoo Ink
Dynamic Color Heavy White Tattoo Ink
Authentic Radiant Colors U Pick Super White
Intenze Snow White Opaque Tattoo Ink
Bloodline Authentic Ink All Purpose White
Stigma Snow White Tattoo Ink
Element White Tattoo Ink
Eternal Tattoo Inks
Quantum Tattoo Ink, Barry White, Opaque
Shine White – Nocturnal Tattoo Ink
1. World Famous Portrait White Tattoo Ink

Portrait White is a finely scattered low concentration white colour and dense enough for making portraits and shading in color and black and white tattoos. Being less thick in consistency, making it ideal for realism tattooing. After the white colour doesn't turn yellow and the color stays rich and doesn't fade away or lighten. This tattoo ink is high in quality with a high pigment content. It is easy for applicants and heals well after the procedure. For all these qualities, World Famous Portrait White Tattoo Ink
is the best white tattoo ink and leading seller in the market in many countries of the world.
Pros:
Consistent product and good opacity
Pigmented concentration is high with a medium density
Gives a juicy and neat look after healing to the tattoo
Easy and densely inked beneath the skin
Vegan friendly
Safe for skin
Comes in convenient bottles
Cons:
It is a little costlier than the average ink
2. Dynamic Color Heavy White Tattoo Ink
This tattoo ink is thick white tattoo ink in consistency and is good for overlapping black colour tattoos and giving a touch of white over black tattoo ink. The consistency is very saturated, making it one of the thickest in this ranking. It is appropriate for creating rich and glossy white areas in your tattoo, best for highlighting purposes. But to get more liquid and less saturated product it can be diluted as per convenience. Also suitable for making white ink tattoos on white skin.
Pros:
Tattoo white ink stays white for a longer time
It can be converted into different densities
Leaves no smudges after process
Sharp lines can be made
No trouble occur during the healing process
No allergic reactions to skin
Easy to ink beneath the skin
Provides ease of work
Consumption occurs slowly
Reasonable cost
Available in various sizes
Cons:
It can be difficult to wash it off the body
3. Authentic Radiant Colors U Pick Super White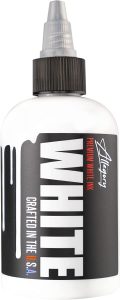 The brand Radiant Colors offers a super white, vibrant and shiny white tattoo ink. The product offers a strong pigment, and a great consistency that makes it possible to apply well and use it overall. It is suitable for all skin tones and a good option as white ink tattoo on white skin, without any signs of fading away. Also, the ink does not contain any toxic chemicals, and the colour turns out similar as shown on the bottle. Package is available with dimensions 6 x 2 x 6 inches and a total weight of 3 ounces.
Pros:
Gives a radiant and shiny white pigment
No fading of colour
Smooth in consistency
Non-toxic ingredients makes it skin friendly
The color of the ink bottle is not misleading and gives perfect colour on the skin
Cons:
To avoid clumps, shake the bottle multiple times before use.
4. Intenze Snow White Opaque Tattoo Ink
Snow White Opaque gives a snow white colour and is not transparent. It is an opaque colour with a high consistency of particles. This is a good option and top-quality white tattoo ink for tattooing in difficult areas where most white inks fail to work. It covers the black colour area such as white ink over the black tattoos and is a great choice for correcting and overlapping old tattoos. It makes greys really smoother in appearance. Intenze tattoo ink does not lose its saturation and does not fade away over the years when healed, which is especially a valuable quality of white ink. Intenze tattoo ink bottles have special markings that distinguish the original from the fake products. There are seals and protective films on the original product that helps you to make sure that no one can open the bottle before you.
Pros:
Thick and highly saturated
Gives ease while working
Bleaches black colour
Completely Vegan friendly
Doesn't drip from skin
Quickly and easily heels
Consumption is slow
Completely safe and sterile
Cons:
There are a many fake products are in the market in the name of this brand
Checkout: Best Moisturizers For Tattoos
5. Bloodline Authentic Tattoo Ink All Purpose White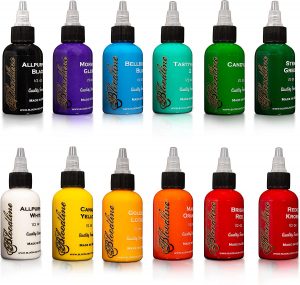 This tattoo ink brand has an all-purpose white ink that makes it fit for all uses and purposes. Whether it is mixing with other colours, or just using it for brightening, highlighting, and making contrasting shades, Bloodline Authentic Tattoo Ink is suitable for all. This ink is an especially great choice for highlights whenever one needs to emphasize another pigment on skin. It is simple for use, consistency is mixed well and easily flows beneath the skin. The white pigment has incredible brightness and will stand out the most out of all colours in the tattoo on your body. The package has dimensions of 4 x 2.1 x 1 inch, and a total weight of 3.21 ounces
Pros:
Shiny and vibrant white pigmentation
Good for all purposes
Works great for highlighting purpose on black skin white tattoo ink designs
Gives ease while working
Do not fade away easily
Cons:
The ink bottle size is a bit smaller than average making it suitable for small white ink tattoo ideas
6. Stigma Snow White Tattoo Ink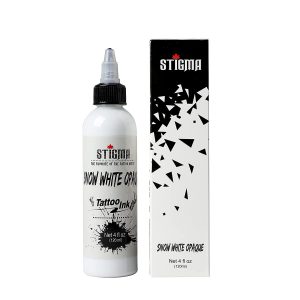 This is a premium quality ink that comes at a pocket-friendly price and offers long-lasting and stable effects. The ink contains high and solid pigments. In Stigma Snow White Tattoo Ink, gamma rays are used to purify the ink and make it skin friendly and sterile. In addition, it provides ease while working for beginners as the highly concentrated pigments blend well and require less effort. Expertise-level tattoo artists can use the product.
One can use the ink to make both lines and shades and a suitable choice as a white ink tattoo on brown skin.
Pros:
The stable and durable colour outcome that enhances white ink tattoo black skin ideas
Pure and safe for the skin as skin-friendly pigments are used
Highly concentrated
Gives perfect blending and is quite convenient to use
Price is affordable for every user
Cons:
It is best only when used for practice purposes by tattoo artists
7. Element White Tattoo Ink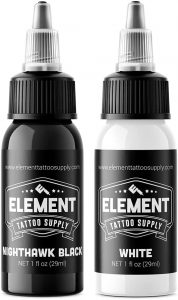 The Element Tattoo Supply brand offers a bold white tattoo ink that creates a contrasting effect with brightness. It is simple to use, and suitable for both experts and beginners. The package comes in dimensions of 1 x 1 x 4 inches and has a weight of 2.4 ounces.
Pros:
Gives a vibrant pigment of white ink tattoos on dark skin
Suitable for all purposes
Suitable as a highlighting grey tattoos, and blending mixing
Simple in usage and suitable for experts and beginners
Cons:
Shake well before use to avoid watery consistency
Also Read: Interesting Facts About tattoo
8. Eternal Tattoo Inks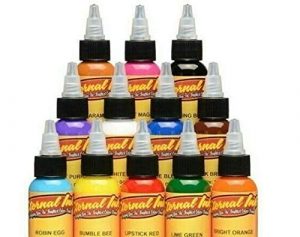 Eternal produces a soft effect with white tattoo ink. It is suitable for tattooing white feathers or depicting light highlights, and white clouds. It is highly saturated white tattoo ink that is excellent for application under the skin.
Pros:
Highly concentrated product
Provides protection against counterfeiting
Completed Vegan Safe
Heals completely
Consumption is low
Hypoallergenic in nature
Cons:
Product is costlier than average
9. Quantum Tattoo Ink, Barry White, Opaque

Quantum Tattoo Ink contains a little eucalyptus, menthol, and thymol as their ingredients and to give a fragrance to their ink. The other chemical ingredients include vegetable glycerin, distilled water, and ethyl alcohol. The formula is kosher. It is produced in the USA and laboratory tested and sterilized to meet the high requirements of the European Union for safety.
10. Shine White – Nocturnal Tattoo Ink

Franco Vescovi, one of the names in the list of best tattoo artists and Jack Rudy come together to create this ink, Nocturnal Tattoo Ink. This ink is composed of only three ingredients. They are organic pigments, ethyl alcohol, and sterilised water. There are no harsh chemicals and other harmful components in the content of ink. You can also buy the quantity of product as per your need, as there is a size option available like 1oz, 2oz, 4oz, and 8oz.
Pros:
Choose size according to the preference
Shiny and vibrant white colour and suitable for black skin white ink tattoo ideas
Organic composition
Darker and smoother shade
No harsh chemical are used
Cons: