Made To Fade Tattoo Introduction
Tattoos are a kind of art that has become more common, more popular, and more acceptable among the people of today's society, as more and more people are interested in getting tattoos inked on their bodies. Many believe that tattoos are something that is only related to celebrities and mainstream influencers who can flaunt their tattoo ink on social media and put themselves in the spotlight. However, getting a tattoo for a lifetime is a serious commitment. Sometimes, people are not completely sure about what type of tattoos they want to ink on their bodies forever.
Due to this reason, some companies are pushing the idea of temporary and made-to-fade tattoos, with the special privilege of customizing the ink for tattoos. The main purpose behind these kinds of products is that the customer can test out a tattoo on the body before inking the tattoo forever. This idea of making fade-away tattoos is pretty sweet and one needs to apply the ink themselves. But this was changed until one tattoo studio in Brooklyn discovered a way to change the tattoo game forever. They introduced professional tattoos that last only for one year, the first ever of its kind.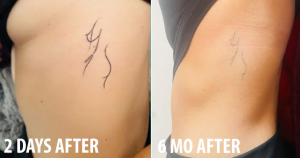 The Way Made-To-Fade Tattoos Work
Now people keep on wondering how professional tattoos last only for a year. According to various sources and Ephemeral Tattoos studio's website, the professionals at Ephemeral Tattoo use FDA-approved solutions for the tattoo-making process. It is a medical-grade and biodegradable solution. Moreover, this is completely safe for the skin. Essentially as the ink is biodegradable this means that the ink used in the process can break down over time, naturally. The ink naturally disappears from the body instead of staying on your skin forever. The older tattoos sometimes tend to fade away over time and may require little touch-ups. Made to fade tattoos are made of a type of ink that eventually can fade until the particles of ink become small enough by degradation to get lightened and removed from the skin. Josh Sakhai, co-founder of Ephemeral Tattoo Studio has introduced made-to-fade tattoos in this industry. The major difference between the way Ephemeral works, in comparison to traditional studios, is the traditional ink used for tattoos. The traditional ink clumps together and is too big to get removed from the body. And this temporary solution used in made to fade away tattoos is the real game changer for the tattoo industry.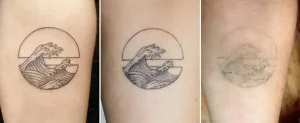 Whereas the ink is different, the process is quite similar to the traditional way of tattooing. In an interview the co-founder of Ephemeral studio said that Ephemeral made to fade tattoo ink works similarly to the traditional one, where ink goes into your skin and clumps together but the ink particles break into further smaller pieces so that it can be easily removed. He also said that the ability of the body to break down and degrade the ink depends on which part of the body a client decides to get their tattoo. One of the most common questions asked by the customers is if Emphemeral's ink hurts less than the traditional tattooing process. The answer is yes. Ephemeral ink is applied on the skin by tattoo artists using tattoo machinery. So, there is likewise a chance of pain and discomfort during the procedure. After the procedure, customers may also experience irritation, redness, and itchiness when the skin heals. So the pain of inking the tattoo also depends on the placement area on the body, pretty much similar to traditional tattoos.
To Get a Made-To-Fade Tattoo- How?
Those who are interested in getting a made-to-fade tattoo as maybe not ready to commit to any tattoo for the long term, or sometimes people just want to test out a design before getting the real tattoo inked on the body for a lifetime, this blog is for them. To show interest in getting an appointment and booking with Ephemeral Tattoo Studio, you will need to first visit their official website and leave a deposit amount, as they are booked months in advance. A deposit assures you a spot and confirms an appointment when it opens up. Similar to the traditional studios, Ephemeral Tattoos also allows its clients to create and select their own designs for tattoos.
Before the appointment, the studio provides a team of experts who help the clients in figuring out the design of tattoos on the body. A private tattoo booth will be set up with a tattoo artist for the clients who will do a consultation and talk about the design and any other concerns. The clients need to talk to a professional artist first and then customize and design their tattoo ink. This also provides the ability to the clients to make any changes and modifications in tattoo design and ink before getting the process done.
How Much Made To Fade Tattoos Cost Around?
The smaller-sized tattoos made to fade at the studio range from $175 to $225, whereas the bigger pieces of art with a shading range can cost from $350 to $450. The costing is a bit different from traditional studios that typically charge the cost depending upon the hours taken for the process. Moreover, the Ephemeral studio has a no-tip policy in their working rules to ensure fair wages and provides competitive benefits for artists while offering transparency for the clients. In an interview, Sakhai said that their artists had shared that few of the main challenges of their jobs were financial insecurity and lack of community. Hearing all this, the studio decided to make investments in their artist's experience.

Subtle Style or smaller size costs $175 to $225. Its features are:
Size is up to 1 to 3 inches
Simple and small line designs with little or no shading on tattoo
Statement Piece or the bigger size costs $350-$450. Its features are:
Size is up to 5 inches
Complex and larger-sized tattoo designs that include more intricate and fine detailing and shading
---
---
About Ephemeral Tattoo Studio- The origin of world's first Made to fade tattoo
In this blog, you have seen the name "Ephemeral Tattoo Studio". So what is Ephemeral? Ephemeral is basically a tattoo company. They have created the world's first made to fade away tattoo ink. This means that it is a real tattoo ink applied by an actual tattoo artist, similar to any other traditional tattoo, that will fade away within a time period of one year. Ephemeral Tattoo company looks forward to changing the feeling of regret by offering semi-permanent and easy fading away ink that targets those people who are interested in getting tattoos but without any long-term commitment.
Many people grew up in such houses where tattoos were a big no-no. The founders of Ephemeral are Vandan Shah, Ph.D., and Brennal Pierre Ph.D. They originally came up with the idea for Ephemeral tattoos in the year 2014, when they were teaching and studying chemical engineering at NYU respectively. From there, they came across the third co-founder. He is an NYU business student named Josh Sakhai. One of the team members of Ephemeral previously actually had a permanent tattoo and he tried to remove it with laser treatment. He had a painful experience with the laser procedure. From here the idea of making to fade tattoos sparked and the company Ephemeral started. And six years later, Sakhai and his team members have developed that unique technology of fading away tattoos and also created a different and enjoyable experience for tattoo lovers. They all spent nearly a decade developing the ink, it's testing, and changing the formula of the ink until it was safe and ready to be used on human skin.
To date, the Ephemeral team has clinically tested over 50 ink formulas. The ink formula is made from the ground up. It is being said by the formulation team that when they were designing the Ephemeral ink formulation, safety was their most important priority. The ink only uses materials that are safe and already approved by the FDA, which are already used in medical grounds and already claimed to be safe. The tattoo ink used in Ephemeral Tattoo Studio is made of good quality medical grade materials, completely absorbable, and biocompatible. In addition to this, the ink formula contains polymers which are high-quality pigments chosen routinely and used in foods, cosmetics, and other products. It is an extensive service not only just for clients, but also for the tattoo artists themselves.
Limitations of Made-to-Fade Tattoo
Ephemeral has a lot of limitations at the present moment. As it includes, such ink is not able to do tattoos that are more than five inches especially tattoos on the hands, fingers, and face. Moreover, the tattooing can be done only with black ink. After reading this blog, many of you might be looking for the answer to the question made to fade tattoos near me. The Ephemeral Made to Fade tattoo Los Angeles is at 131 N La Brea Ave, Los Angeles, CA 90036. Its other branches are there around other places.