Rotary Tattoo Machines For Tattoo Artists
You may experience a full tattoo studio on the go if you have the best tattoo machine kit. With the right skills and experience, tattooing may swiftly move beyond the realm of a hobby. The appropriate equipment helps ensure that all of your tattoos turn out exactly the way you planned them to. We have the ideal tool if you've been looking for a way to get outcomes that are professional. The same obstacle faced by every single artist: getting a reliable tattoo machine. Finding the greatest rotary tattoo machine, meanwhile, is not at all simple. Even experts would likely be persuaded by the number of duplicate products that are flooding the market every day. In general, tattoo rotary machines are lightweight, portable, and ergonomic; nevertheless, there are other aspects that experts should look for in addition to aesthetics. Thus, here is the purpose of this blog to get cheap rotary tattoo machines for sale. This blog highlights the complex features and capabilities that are considered beyond the scope of the initial inspection. It is expertly written, with precise information and descriptions. minimizing more poor purchasing decisions and putting a true value on your money.
Wireless Rotary Tattoo Machine FK IRONS FLUX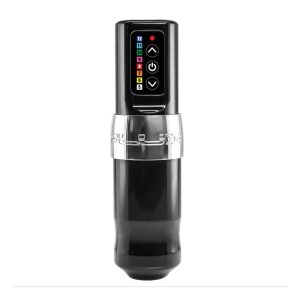 Specification
| | |
| --- | --- |
| Best for | Best Wireless Rotary Tattoo Machine |
| Battery | 7-8 hours |
| Stroke lengthy | 4mm |
About FK Irons Flux
This is an FK Irons wireless tattoo gun pen.
Because the motor lies in the middle of the body, the weight is distributed evenly.
So the Flux is a pen that can be used for both line and shading, making it incredibly versatile.
One battery can use 600 charges. The battery can be used in sleep mode.
The indication on the machine is done using numbers and colored LEDs. The battery charge level appears with the change in color of the LED.
This is one of the affordable rotary tattoo kits.
Pros
Very robust and durability in design
The design is ergonomic and modern
The machine has long runtime without a charge
Solid and smooth operation
Cons
The interface of voltage and battery level control is not very user-friendly.
Cheap Rotary Machine DRAGONFLY X2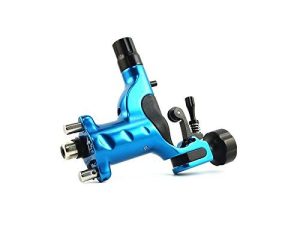 Specification
| | |
| --- | --- |
| Best for | BEGINNER ROTARY TATTOO MACHINE |
| Weight | Low weight (65 gm) |
About DRAGONFLY X2
It boasts a more potent motor and offers a stroke option that lets you change the return spring's force.
This tool's adaptability makes it great for both tattooing and permanent cosmetics.
Creating solid coloring, half-shadows, gradients, and sharp contrasting lines are all things that Dragonfly excels at.
This machine is quite smooth and has a low degree of trauma on the skin which ensures fast recovery time following the tattooing.
Pros
Eccentric is possible to change
Available in a variety of shades and configurations
Good durability
Compatibility in Cartridge
Compatible working with 0-13 volt power supplies
One among the cheap rotary tattoo machine
Cons
Sometimes it can get off balance
Affordable Tattoo Rotary Machine CNC HAWINK Q1
Specification
| | |
| --- | --- |
| Best for | BEST CHEAP ROTARY TATTOO MACHINE |
| Advanced motor | German Faulhaber motor |
| Working hours | 12 Hours |
About CNC HAWINK Q1
The Faubhler motor is a sophisticated device that uses low voltage to design a piercing that is both effective and painless.
It includes excellent cables, handles, and grips. These attachments are incredibly strong and long-lasting.
It contains a sophisticated bearing set that makes the piercing process supple and easy.
Scratches are shielded by this enclosure. It also has a superior grip, which lowers friction.
This is a cheap rotary tattoo machine kit
Pros
This device can absorb heat, making it resistant to heat and tear
The needle is safely protracted along with less puncturing frequency on the skin further reducing skin damages
Less noise and vibration due to German Faubhler Motor
Cons
The eccentric Faubhler Motor needs mechanical maintenance periodically.
Cheap Rotary Machine for Tattoo Artist FK IRONS SPEKTRA DIREKT 2

Specification
| | |
| --- | --- |
| Best for | BEST ROTARY MACHINE OVERALL |
| Working voltage | 4 volts |
About FK IRONS SPEKTRA DIREKT 2
Hex drive motor bolts are used in the machine, which can work with other things.
Additionally, it includes three adjustable stroke caps, making it very easy to alter the stroke.
This machine does not need any lubrication, making it super easy to use and maintain.
Pros
Quite Comfortable and very easy to use
Design is classy
Extremely lightweight
Made of Aircraft grade aluminum
Durable
This comes under the category of cheap rotary tattoo machine price list.
Cons
Absence of needles, which needed to be bought separately
Best For Lining Tattoo Rotary Machine CHEYENNE SOL TERRA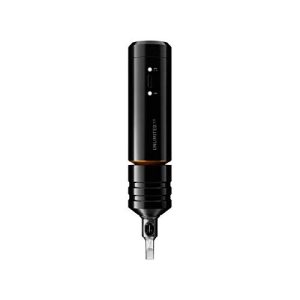 Specification:
| | |
| --- | --- |
| Best for | BEST FOR LINING |
| Motor | Brushless DC Motor |
About CHEYENNE SOL TERRA
There are two working modes for the stroke softening system: HardDrive and the newer SENSIDRIVE function.
Other characteristics include comfortable vibration, a strong starting torque, high levels of dependability, and no speed restriction for the rotor.
The Sol Terra is well-anticipated as a tattoo machine and is good for lining and coloring purposes.
Pros
A unique system for changing the softening stroke mode
The device automatically modifies the level of needle strike hardness
Exceptionally well-balanced design with cozy 33mm grips
Lightweight
Warranty
No sound or vibration
It is a cheap rotary tattoo kit
Cons
Due to the fixed needle bar, it is difficult to disinfect.
---
---
Best Rotary Tattoo Machine BISHOP MICROANGELO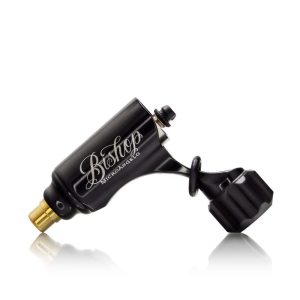 Specifications
| | |
| --- | --- |
| Best for | GOOD ROTARY TATTOO MACHINE |
| Made of metal | Aluminum |
About BISHOP MICROANGELO
A refillable ink tube is included. Multiple inks can be used anytime.
It can increase efficiency by occasionally replacing its rotary motor and interchangeable Cam slot.
It has modern Ball Bearings and a quick drilling set that make tattooing possible.
Long-lasting needle cartridges. Needless is excellently designed and styled smoothly for easy puncturing.
These are the cheap bishop rotary tattoo machines for sale
Pros
Unlike the coils, this machine is highly efficient, and has excellent puncturing frequency, resulting in forming neat linings on the body. This causes the operation Smooth and Fast.
User-Friendly interface as it is easy to use. Both experts and beginners would simply operate the machine.
Safety and Protection for beginners are a priority. The needles and other components of this machine are designed with maximum safety measures.
Cons
Unluckily, this brand does not come with any user warranty for buyers.
BUDGET-FRIENDLY Rotary Tattoo Machine PEAK TANZA WITH AXI GRIP

Specifications
| | |
| --- | --- |
| Best for | BUDGET-FRIENDLY CHOICE |
| Working voltage | 4DC to 12DC |
| Needle stroke length | 0mm to 4.5mm |
About PEAK TANZA WITH AXI GRIP
It has a strong Japanese DC motor within.
Peak's Axi grip offers superior stability and control
The manufacturer gives a year warranty on their product
This kit combines a drive bar, plunger bar, rubber bands, and hex key kit; six sizes for adjustments.
Being very well-balanced, this set has a comfortable and ergonomic external design and a smooth body made of aluminum.
Pros
Perfect weight, balance, and ergonomics
powerful and steady performance
affordable price
The manufacturer provides a 1-year warranty
The handle is included in the kit
Good cheap rotary tattoo machines are best for beginners and professionals
Cons
only effective with cartridge needles
only available in red
Good Rotary Tattoo Machine CHEYENNE SOL NOVA UNLIMITED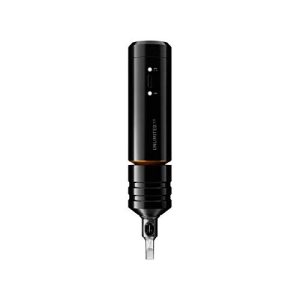 Specification
| | |
| --- | --- |
| Best for | BEST ROTARY TATTOO PEN MACHINE |
| Battery life | 5 hours |
| Control system | Cordless control system |
About CHEYENNE SOL NOVA UNLIMITED
The tool has two working modes as its analog. They are Steady and Responsive.
For indication, the degree of charge is indicated by the lower LED and the upper LED indicates the enabled mode in the machine.
The total kit comes with a battery charger, an extra battery, a Cheyenne protective case, and a zippered travel box along with several manuals.
Pros
Well centered weight
Extremely quiet and noise-free
Minimal vibration while working
Comes with a travel box for making transportation easy
Cons
Wireless Rotary Tattoo Machine INKJECTA FLITE X1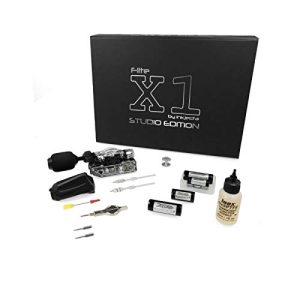 Specifications
| | |
| --- | --- |
| Used for | WIRELESS ROTARY MACHINE |
| Weight | 135-140 grams |
| Working voltage range | 4.5-16.5 volts |
About INKJECTA FLITE X1
When using the large 18500 battery, this device can run for up to 8 hours, and when using the tiny 18350 battery, it can run for up to 4 hours.
There are different bars to select the stiffness of the machine. A pre-assembled carbon rigid needle bar (black in colour), medium, and hard torsion drive bar are also present.
Pros
Runs smoothly and is simple to use
Digital depth adjustment is possible thanks to a custom twin nanotechnology motor.
both wireless and powered by batteries.
Cons
Some consumers are less fond of non-standard design.
There is a sense of imbalance because the motor unit is rather huge.
Best For Shading Rotary Tattoo Machine CHEYENNE HAWK SPIRIT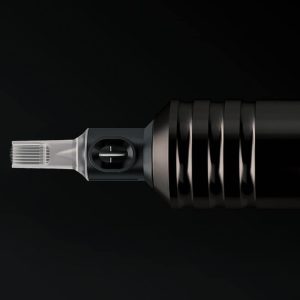 Specifications
| | |
| --- | --- |
| Best for | BEST FOR SHADING |
| Weight | 3.88 ounces |
About CHEYENNE HAWK SPIRIT
You can soak the skin without causing further stress thanks to the short-stroke and high-gear combination.
Compared to using standard machines and needles, tattooing is considerably simpler and easier to manage with this machine.
Pros
robust and powerful motor
Ideal for realism in black and white and shading
Low-noise
Cons
There is already a built-in needle bar.
A grip is not included in the package; one must buy it separately.
Conclusion
It is impossible to overstate the advantages of rotary tattoo machines. This straightforward device has elevated contemporary tattooing to a new level by boosting gorgeous lines and bright designs. However, finding the best rotary tattoo guns is a difficult task that takes great thought and research. Before making any purchases, amateurs and professionals alike should make an effort to conduct thorough research and inquiry. Thus, the main idea of this review. In order to improve the tattooing experience, it is crucial that we are aware of this information.
Which is the best Rotary Tattoo Machine?
INKJECTA FLITE X1 is the best Rotary Tattoo Machine.
What is the rotary tattoo machine's average price?
$500 is a rotary tattoo machine price.
Which is the best rotary tattoo machine for beginners?
DRAGONFLY X2 is the best rotary tattoo machine.